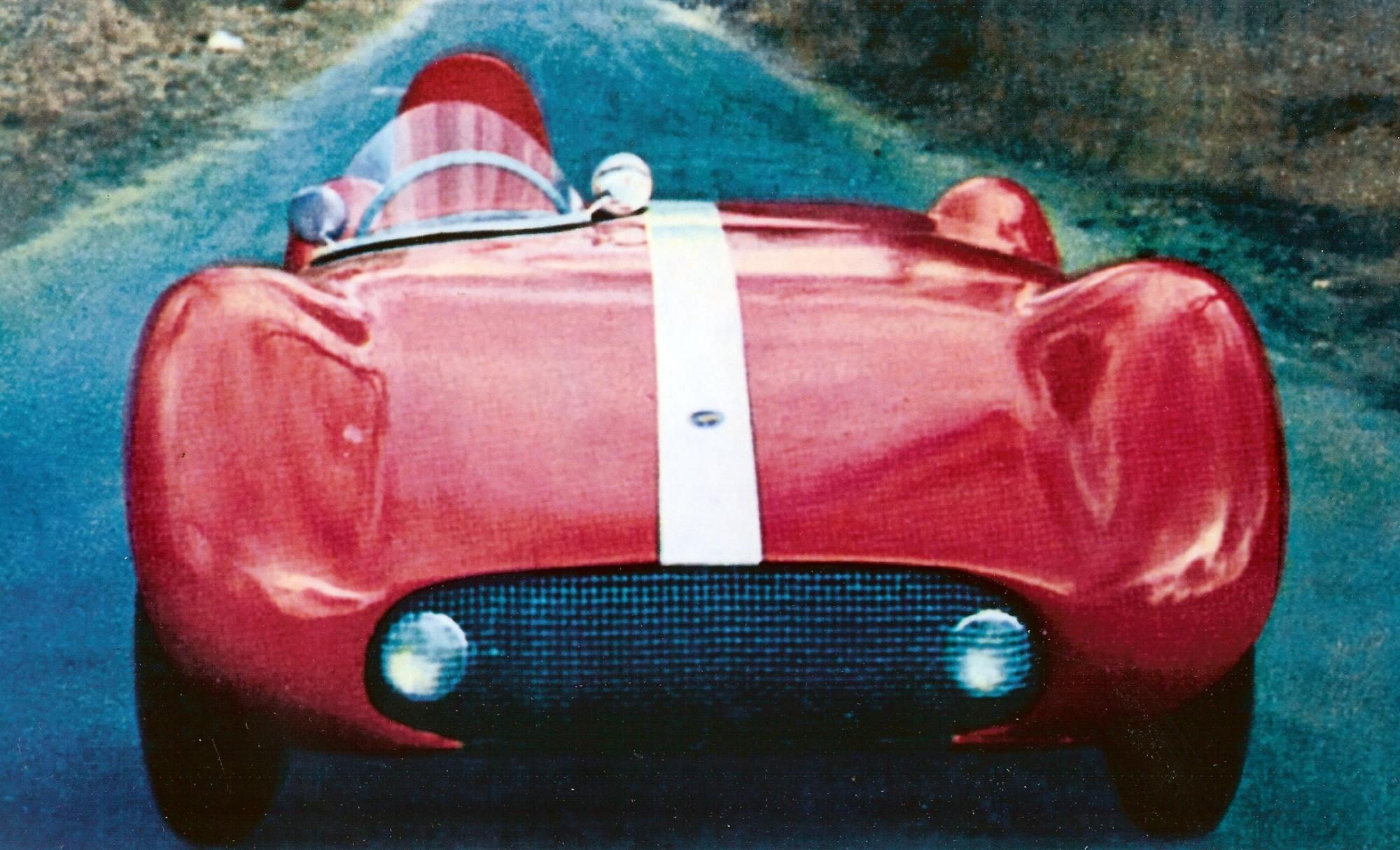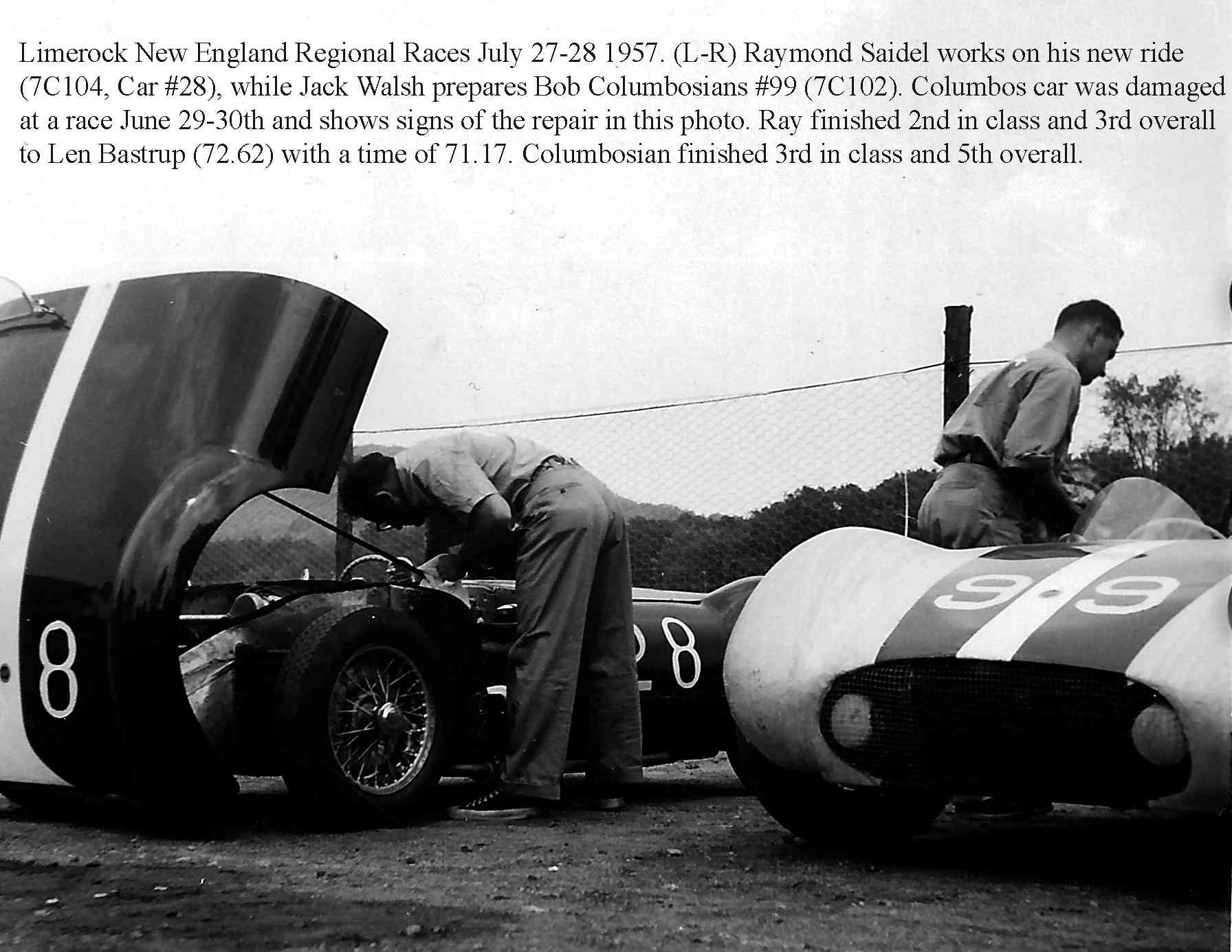 Ray has ordered a 5th racing chassis but to save time has asked TVR to build a fiberglass body
for it. It arrives August 14, 1957.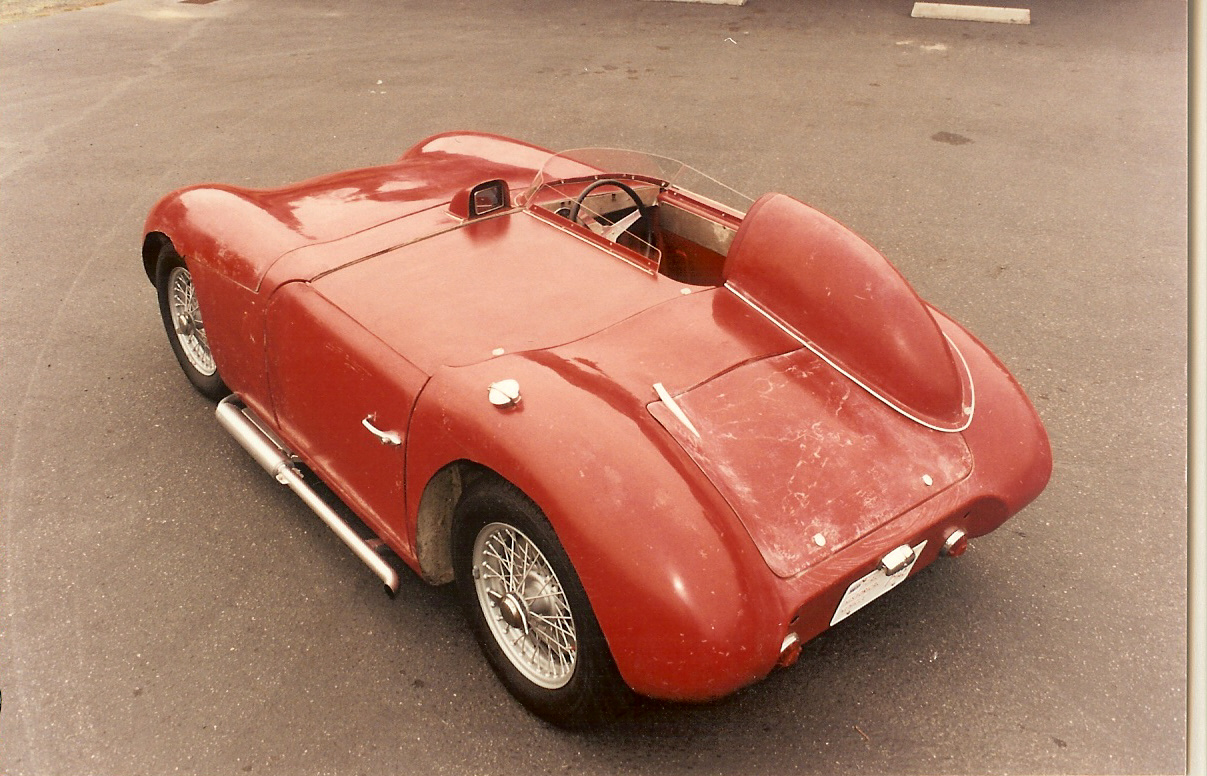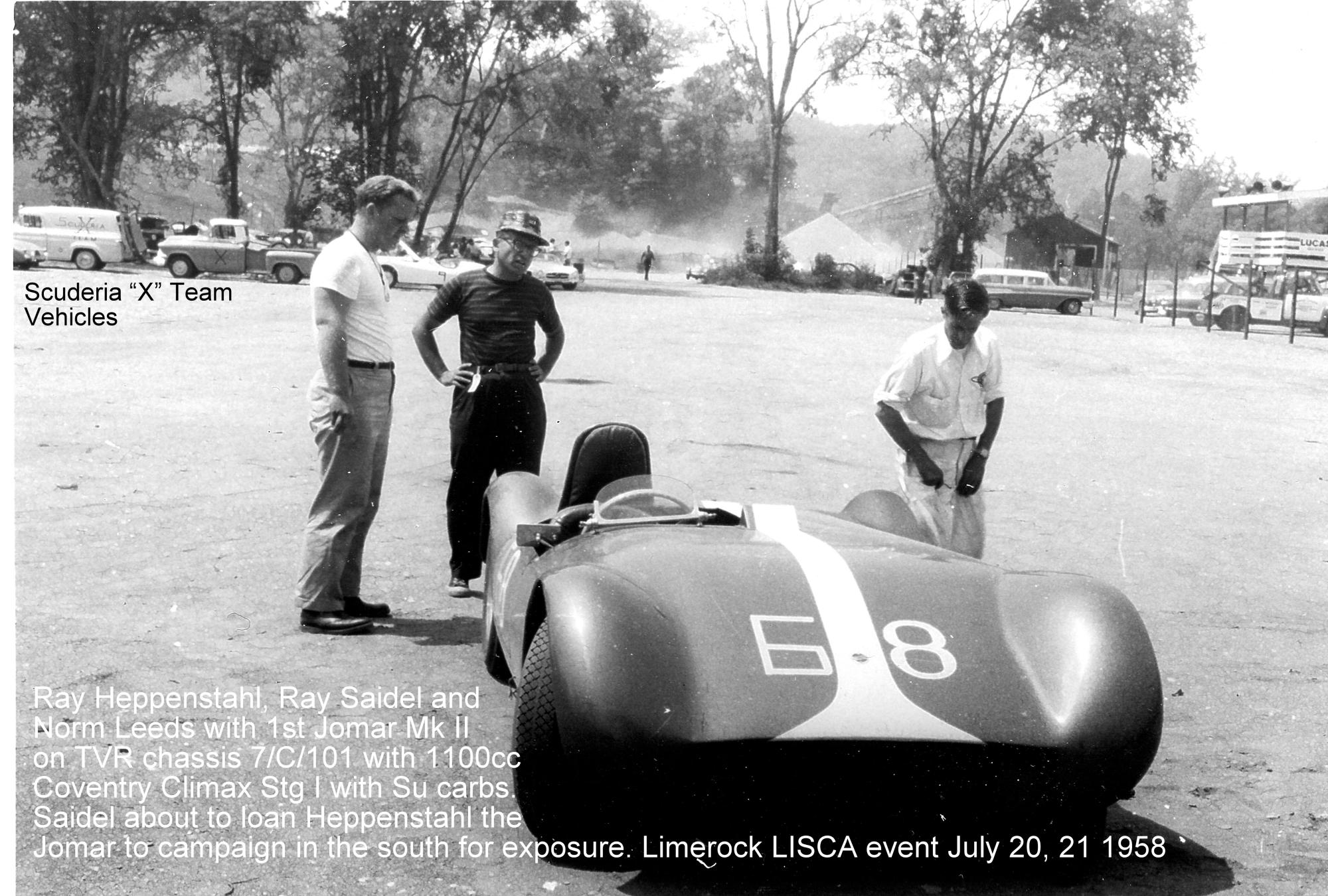 On March 13th, (last Sunday) the SSR team took the first car, modified with all the new suspension updates to Thompson Raceway. At this time, Thompson was being expanded and therefore it was in rough shape. The car handled excellently. Only 20 laps were completed due to a gas line failure, but all present were impressed.
By the middle of March, Saidel had sold his new #2 car to Russ Columbosian at a greatly discounted price, to get another team car going. He was an Andover Mass native whose business was yogurt. Last year was his first year and he looked good on the track. The years opening races were as follows:
April 28 Opening of Lime Rock, Conn.
May 19 Cumberland Maryland
May 26 Opening of Thompson Conn.
Saidel had enlisted Mr. Gus Ehrman to drive a second car at Cumberland and hoped to convince Russ to bring his Jomar for a total of three. Repeat testing of the Jomar made the team eager for the end of April to come. Columbosians car was finished in red with a white stripe bordered in red. The end of March saw TVR finishing the Blown Ford soupe. Bernard said it looked like a cross between a Porsche and a 300 SL, and the factory designated it The Gran Tourismo Coupe. Four days before their first race Ray ordered a 5th chassis to be as #4, the Sebring Car that wasn't, and wanted to get a price on Climax's new `1500 cc engine.
Finally the day came for Lime Rock, a 1.5 mile circuit full of twisting bends, fast and tricky. Some of the fastest Loti in the country were there. The course was the hardest he'd ever seen on suspension and handling, and the cars were superb on both points.
With a defective right rear brake, Saidel managed to finish in 4th place. First was Len Bastrup (MK IX Lotus), 2nd was Charles Cunningham (MK XI Lotus) and 3rd was a Rutan Special. 5th was another MK XI Lotus, 6th was Columbosian in a Jomar, and a Mk XII Lotus, a Siata and another MK XI Lotus finished 7th, 8thand 9th respectively. In a letter to TVR the next day, Saidel said:
          "Could have finished third, but due to a cracked and bent right rear backing plate,
I had to ease off about half way through the race.  I enjoyed the ex

cellent thrill of 




overtaking all kinds of big machinery and holding off (in the corner

s) spider Porsche's to 
say nothing about flying by Alfa Velocies like they were tied to a tree."
Note: Walt Hansgen, top driver for Briggs
Cunningham (D Type Jag) came over after
6the race and mentioned how well he thought
the cars handled and that they were going
to be "real trouble" with a little more power."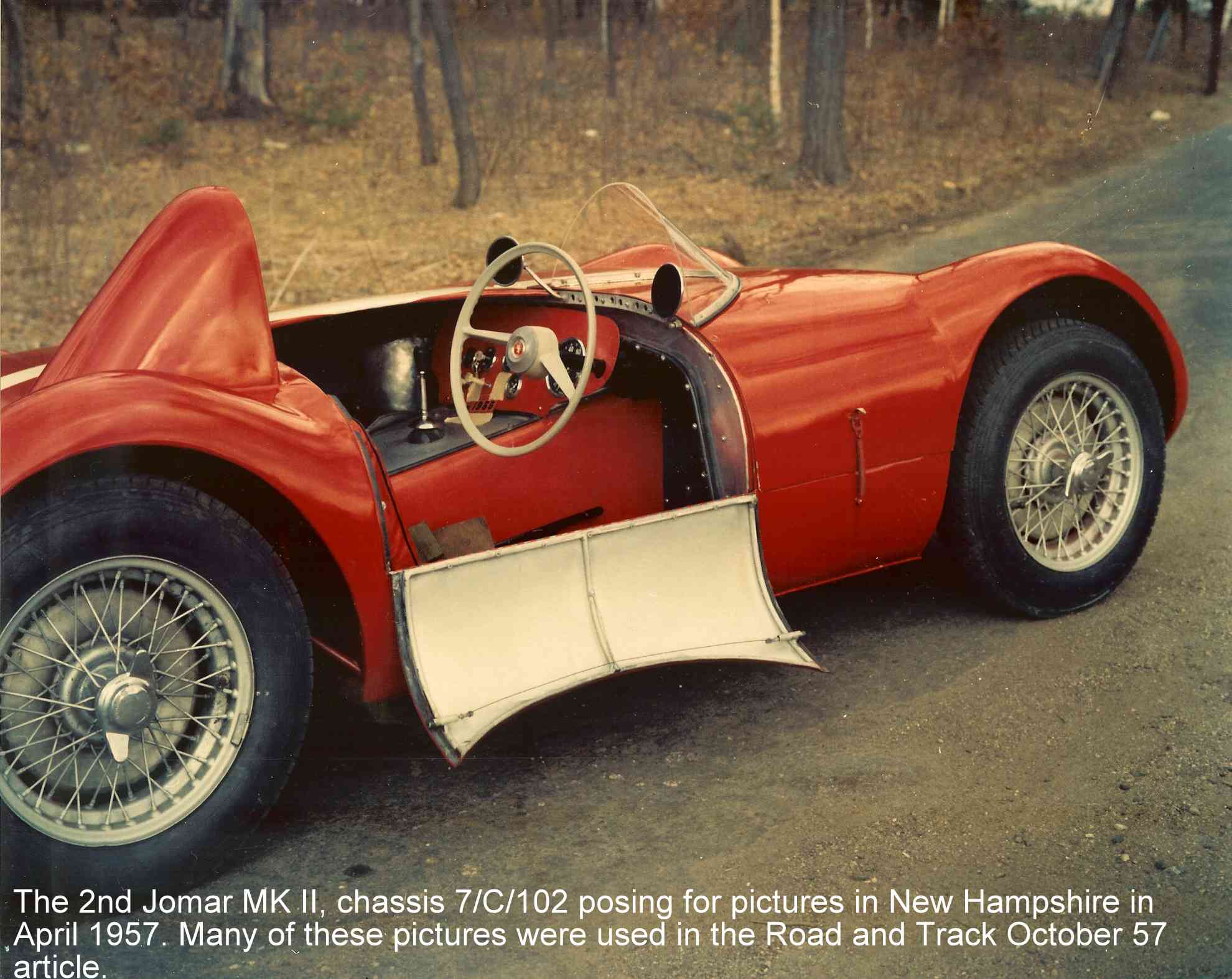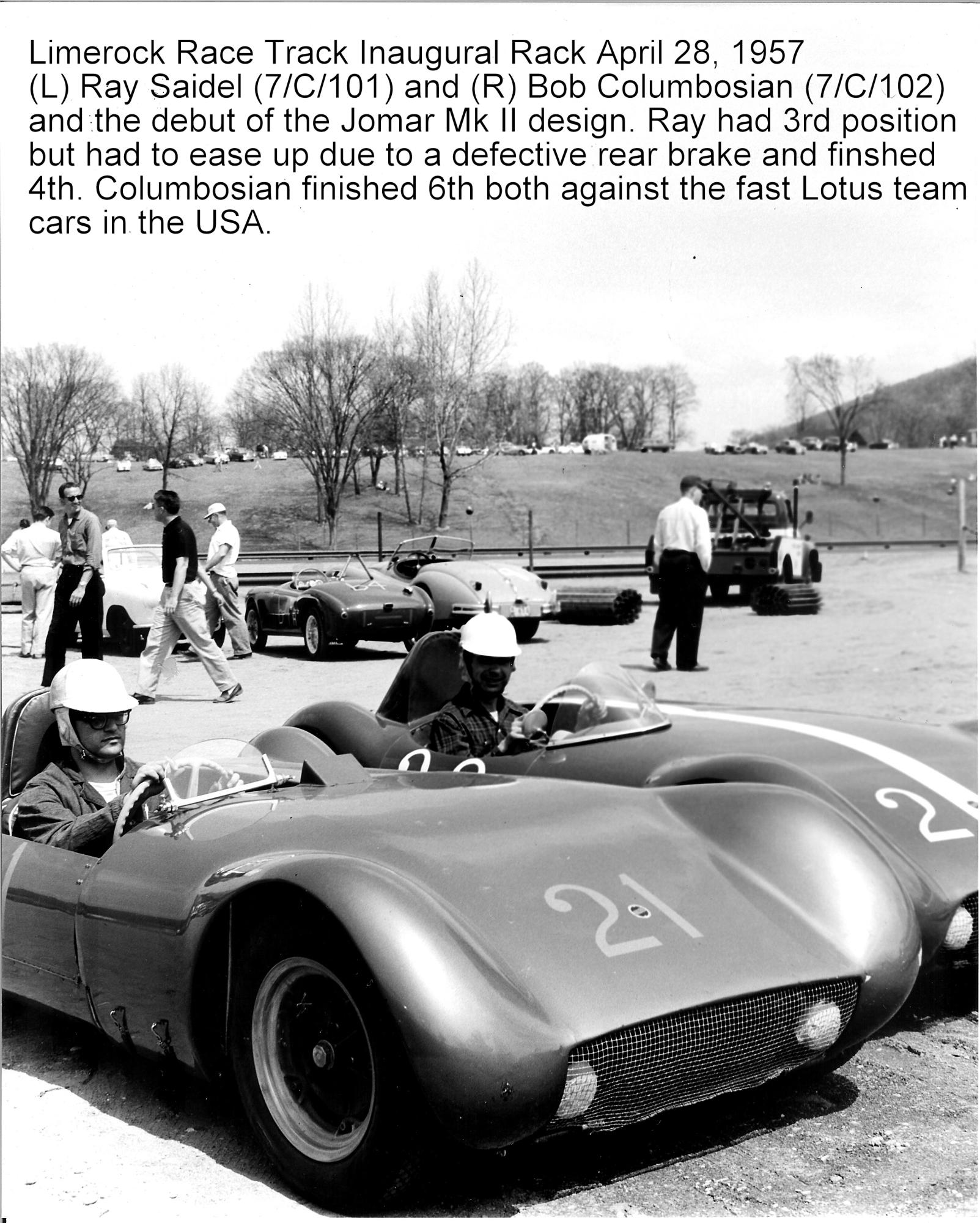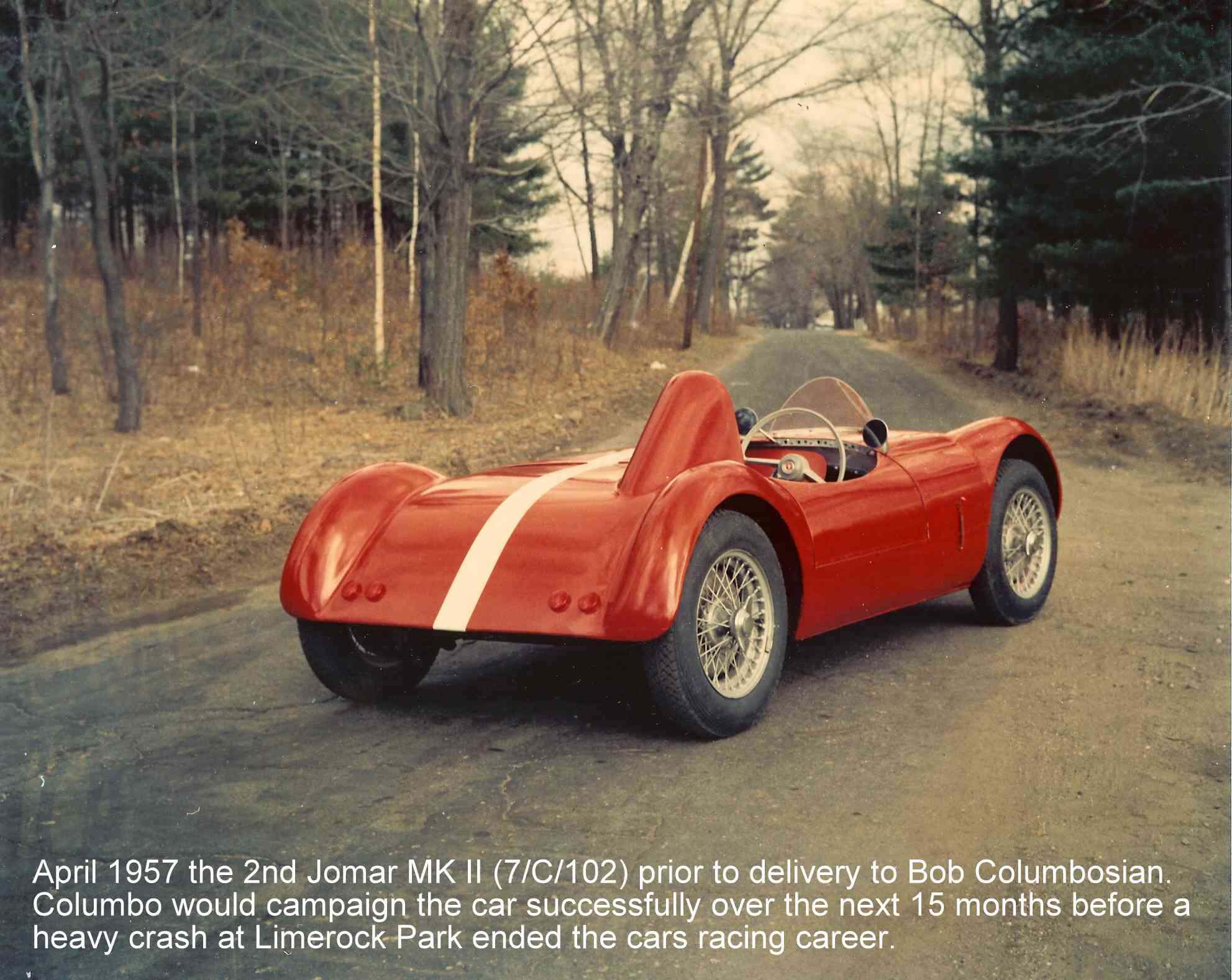 Two weeks later came the long trip to Cumberland, Maryland with his new Jomar chassis 7/C/104. Saidel was to run two races that day. The feature race consisted of all modified cars over 751cc plus production Jaguars, Corvettes and 300 SL's. Cars qualified for the feature by being the fastest of the previous nine races. The Jomar team tried desperately to get the new car ready for the race. During practice periods they repeatedly changed gear ratios, finally choosing a 5.3. The Webers wouldn't run, so the SU's were reinstalled. Saidel started in the last position in car #21 and finished the race in second in class G modified and 8th overall. One more lap would have put him 6th overall as he was closing rapidly on a 4.5L Ferrari and the leading ...
1st lotus II
2nd lotus II
3rd Jomar Mk II
4th lotus II
"At the drop of the flag, the car went like hell for 100 yards and the accelerator linkage bent like a pretzel."
In their haste, they had forgotten to install an accelerator stop for the foot pedal (as the other cars had). Saidel headed into the pits. The crew opened the hood, freed up the linkage and took off again. After two laps Saidel caught a Cooper Climax and was right behind two Loti and an Elva when the throttle stuck open again, this time Saidel couldn't free it up before the tach broke and the engine blew. Gus Ehrman driving the old #1 car came in 6th out of 30 cars. Of these 11 were of the fastest Loti in the US and Canada, 2 Climax Coopers and 2 Elva Climax's (owned by Dietrich). The fastest Elva driver on this continent came over to Saidel and Ehrman after the race. He congratulated them on the performance of the #1 Blue Car and said he couldn't do anything against it. That week the team overhauled the engine and arrived at Thompson Speedway on Saturday. Three Jomars were present for the opening of the new track. Saidels Saturday practice notes read:
     

" ...lap times were very interesting with the Jomars going 

nicely in fact.  I had 




a bi

t of trouble with a D type Jaguar of Mr. Briggs Cunningham and driven by the 
outstanding American driver Mr. William Lloyd, who kept slowing me up on the corners. 
Naturally on the short straight, he would walk away from me, but it was great fun to 
sit there with the back end of a fast D type inches away from the radiator nose of a 
Jomar.  Sunday came, Race Day, and the line up was as follows: 3 abreast, starting 
positions H,G and F all at once:

1. RS PORSCHE
2. RS PORSCHE
3. LESTER MG
4. 1500 MASERATI
5. JOMAR MKII #2 OR3 RAY
6. MKII LOTUS
7. NEW ABARTH CLIMAX
8. 75BHP JOMAR (#1CAR)
9. VW PORSCHE SPECIAL (RUTANS FAMOUS FAST CAR)
10. JOMAR MKII #20R3 COLUMBO
11. CLASS G CAR
12. A FEW CLASS H CARS"
Saidel quickly moved to third overall position and was leading the class for five laps, while Rutan followed. The Webers were finally working fine and on the straights in fourth gear turned 7100 RPMs. Saidel didn't' press the situation as his lead was comfortable. Suddenly Saidel began to smell gas heavily and then the engine quit completely. A broken fuel line T fitting had eliminated him from the race and prolonged the Jomars first victory. The Old #1 blue car came in 2nd driven by Charles Cunningham who had only one hour of practice in the Jomar on the day before.